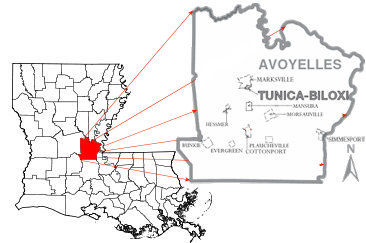 Neighboring Parishes
A Brief History of Avoyelles Parish
Avoyelles officially became a parish in 1807. Native Americans were the first settlers in the Avoyelles Parish area around 300 BC. Mounds have been found in the area dating back to the Mississipian culture. The primary groups were the Tunica, Natchez and Avoyels Nartive Americans who are ascended to todays Tunica-Biloxi Indian Tribe who still live in Avoyelles Parish.

Catholic Church records from the area document a trading settlement called Hydropolis (water city) which was located near the current Tunica reservation. Their documentation was recorded in French during the first French period, in Spanish during the Spanish Period, and then again in French when France reacquired Louisiana before selling the Louisiana Purchase to the Unite States.

The first European settlers in Avoyelles Parish were French and arrived in the area from Pointe Coupee Parish after a devastating flood in 1780. The French settlers in Pointe Coupee had settled the area after arriving from Biloxi via New Orleans. Many of them originated from the old Hainaut region of Belgium and France. Other immigrants then began to populate the Avoyelles area, arriving from Canada, Scotland, Belgium, Italy, and Germany. Today, Avoyelles Parish is considered "Cajun" because of the culture associated with southern Cajun parishes and is considered the most northern Cajun parish.