Clarence Albert Bailey lost at sea
Lost at sea aboard the USS Monaghan in December, 1944
Additional information about the loss of the USS Monaghan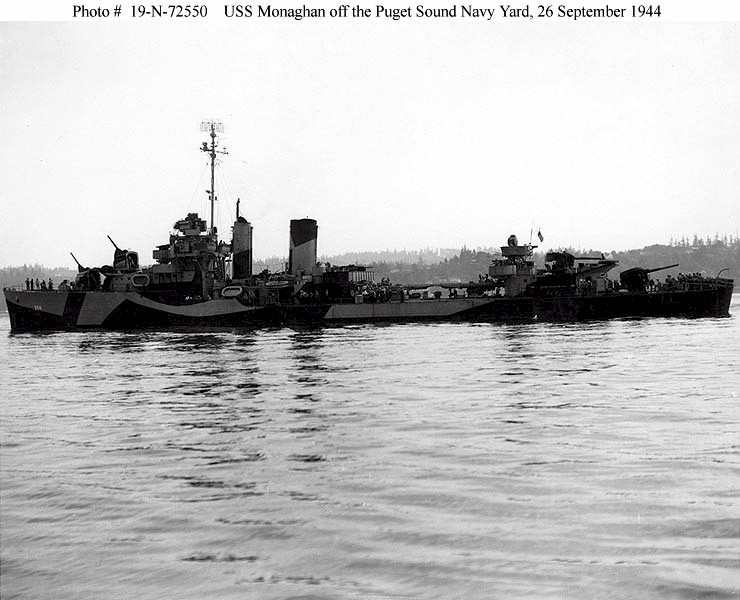 In December 1944 as Admiral William Halsey's Third Fleet was operating in support of General MacArthur's invasion of the Philippines, the Third Fleet encountered a tropical cyclone more powerful than any western Pacific encounter with the Japanese. The result was three destroyers (the USS HULL, USS MONAGHAN and USS SPENCE) sunk with 800 men lost, 26 other vessels seriously damaged, and 146 aircraft destroyed.
Former President Gerald R. Ford in May 1943 served as a pre-commissioning detachment for a new light aircraft carrier, USS Monterey (CVL-26). This was one of the ships in may dad's group. The following is an official record of an account by Lt. Ford who served as the assistant navigator, Athletic Officer, and antiaircraft battery officer on board Monterey.
"Monterey was damaged by a fire which was started by several of the ship's aircraft tearing loose from their cables and colliding during the storm. During the storm, Ford narrowly missed being a casualty himself. After Ford left his battle station on the bridge of the ship in the early morning of 18 December, the ship rolled twenty-five degrees which caused Ford to lose his footing and slide toward the edge of the deck. The two inch steel ridge around the edge of the carrier slowed him enough so he could roll and twisted into the catwalk below the deck. As he later stated, 'I was lucky; I could have easily gone overboard.' "
The fueling day was the first of Typhoon Cobra that claimed 790 lives in the 3d Fleet, and sank Spence (DD-512), Hull (DD-350), and Monaghan. The six survivors, rescued by USS Brown after drifting on a raft 3 days, reported that Monaghan took roll after roll to starboard, finally going over. Of the 6 hands that survived the sinking, 3 perished after rescue.