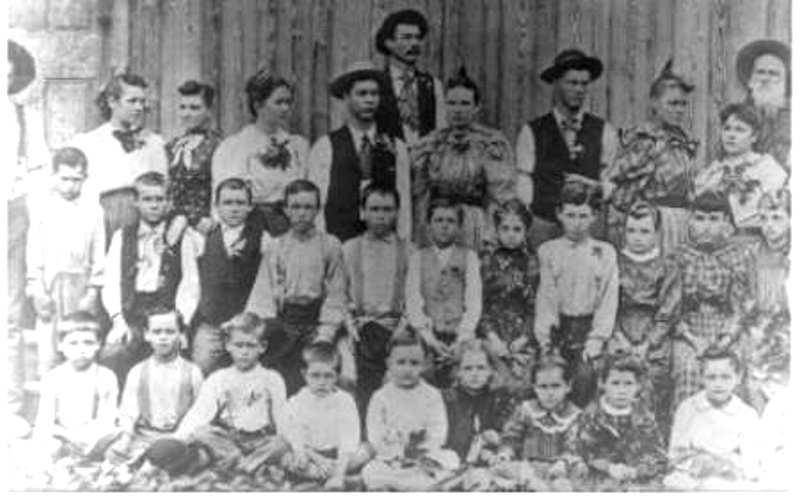 This is the school picture of my grandmother, Martha Suvella Lindsey . She is third from the right on the back row.
The gentleman on the back row with the white beard is James Wilson Miller; he was an education activist, responsible for organizing most of the schooling which the children received. (From Linda's Cousin Cecil): I think Robert Lindsey is in the picture on the row below Martha. I'm sure that Martha's two sisters are there.
I may be able to identify some of the others. I would have to communicate with my cousins to see if they might know some of the others. My grandmother grew up in Sugartown. I am guessing based on her age at marriage and her approximate age here, but I think that this was about 1895.

UPDATE!!!!
From information remembered by the late Frank Miller.......contributed by Wanda Kiser, and submitted by Linda.
Reading from left to right:
Back Row: Sam Miller (son of J J W Miller) & teacher, J J W Miller
Third Row: Hattie Lindsey, Lollie McFatter, Sabre Havens, Landry Miller, Ollie Lindsey, Jodie McFatter, Mattie Lindsey, Zoe Miller, & Mack Lindsey
Second Row: Arch Weeks, Rob Lindsey, Ed McFatter, John McFatter, Hiram Bryant, Dave Cannon, Tom McFatter, Mattie Havens, Sim Havens, Drew McFatter, Sabre Lawhorn, Maggie Lindsey, Winfred Lindsey
First Row: George Cannon, Henry Cannon, Danny McFatter, Dan McFatter, Lou Wagnon, Lou Lindsey, Gary Cannon, Alice McFatter, Alice Thompson, Docie Wagnon.
(The hair-do created by several of the girls was done with a "Cherokee Comb")
Rob Lindsey was mad because he wanted to stand at the opposite end of the row, but he was made to move. He started to squat down and his sister, Hattie Lindsey, pulled him by his pants and told him to straighten up.
Submitted by Linda Bowden